Tikala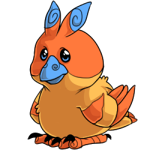 Type:

Ancient
Palamorphs at:

33
Starting stats:
Strength: 2
Defence: 9
Magic Attack: 14
Magic Defence: 9
Luck: 5
Height:

n/a
Weight:

n/a stones
Palabase Entry
Edit
Tikala roost high in the treetops of Paladore. The trilling call of this Pali has a wide variety of inflections and tones. The variations in its inflection and tone are indicators of its mood, a warning to creatures entering its territory or a sign of friendship.
Locations
Edit
| | |
| --- | --- |
| Palia Locations | Adventure Locations |
| None | None |
| | |
| | |
| | |
| | |
| | |
| | |
| | |
| | |
| | |
Special Pali
Edit
Tikala is part of the "special pali" where they can not be obtained through Palia or Adventure, but in a unique and special way altogether.
You can only get a Tikala randomly when completing an Alchemy profession or from another player.
Although getting a Tikala is random, the user Rowehna has caught eight of them, which is half of all the Tikala/Drayax on site. She is the self-proclaimed "Tikala Queen".
Ad blocker interference detected!
Wikia is a free-to-use site that makes money from advertising. We have a modified experience for viewers using ad blockers

Wikia is not accessible if you've made further modifications. Remove the custom ad blocker rule(s) and the page will load as expected.