Rizar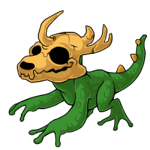 Type:

Physical
Palamorphs at:

28
Starting stats:
Strength: 5
Defence: 6
Magic Attack: 3
Magic Defence: 3
Luck: 8
Height:

n/a
Weight:

n/a stones
Background
Edit
While Zuri was working on a new alchemy potion, she discovered this strange new Pali wandering near her hut. Her newest potion drew in many Rizar, causing her place to be overrun by them. Luckily the scent of the potion was what attracted them, so Zuri lured them to the Profession's Shop where you can purchase your own for 1,500 PP.
Palabase Entry
Edit
Rizar are often found climbing trees with the aid of its suction cup like feet. It uses the horn on its head to rip the bark off of trees. This Pali's diet consists primarily of bugs, fruits and wood bark.
Locations
Edit
| | |
| --- | --- |
| Palia Locations | Adventure Locations |
| none | none |
| | |
| | |
| | |
| | |
| | |
| | |
| | |
| | |
| | |
Special Pali
Edit
Rizar is part of the "special pali" where they can not be obtained through Palia or Adventure, but in a unique and special way altogether.
The only way to get one is to purchase it from the Professions Shop for 1,500 'Professions Points.'
Ad blocker interference detected!
Wikia is a free-to-use site that makes money from advertising. We have a modified experience for viewers using ad blockers

Wikia is not accessible if you've made further modifications. Remove the custom ad blocker rule(s) and the page will load as expected.