Raspbuck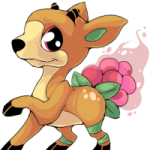 Type:

Earth
Palamorphs at:

None
Starting stats:
Strength: 10
Defence: 21
Magic Attack: 27
Magic Defence: 9
Luck: 6
Height:

n/a
Weight:

n/a stones
Palabase Entry
Edit
Raspbuck has a keen sense of smell, allowing it to smell raspberries from hundreds of miles away. They often gather into herds with their twin, Strawdeery. Raspbucks are gentle pali but can become fierce fighters if Strawdeery is in danger.
Locations
Edit
| | |
| --- | --- |
| Palia Locations | Adventure Locations |
| Voluu Village: Main Area | None |
| | |
| | |
| | |
| | |
| | |
| | |
| | |
| | |
| | |
Seasonal Only
Edit
Raspbuck is only available during the Spring festivities.
First available for the Spring Event in May 2012.
People often refer to Strawdeery and Raspbuck as "Fruit Butts".
Wild Raspbuck are considerably more difficult to beat than their twin. Wild Raspbuck have 1000 health and give 859 exp.
Can trade 300 yellow tulips for a Raspbuck at May's trade shop.
After complaints that Strawdeery and Raspbuck did not fit the paladore style, the management obliged and revamped the artwork on May 11.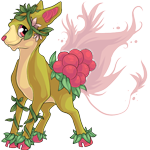 How to get: Feed a strawberry to your Raspbuck
Ad blocker interference detected!
Wikia is a free-to-use site that makes money from advertising. We have a modified experience for viewers using ad blockers

Wikia is not accessible if you've made further modifications. Remove the custom ad blocker rule(s) and the page will load as expected.